---
764 East Elder Road, Mancelona, MI, 49659
---
We love stories and the people who tell them. Whether they are told at dusk around the campfire while roasting marshmallows, or in the morning around the coffee pot, we love to hear other camper's adventures and tales from the road.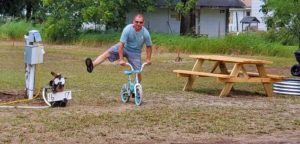 Since you are here and considering a stay at Antrim Meadows, I will break the ice and start with our story. We are Doug and Stacey Hicks–short-time campground owners and Northern Michigan natives. We actually attended the same highschool, but moved apart until a chance meeting brought us back together in 2005. We returned to Northern Michigan in 2014 and soon after, we re-opened Doug's successful auto-repair business, Doug's Garage and Off-Road Center. Over the years, we also developed a love for camping to add to our other hobbies of travel, motorcycles and mountain bike riding.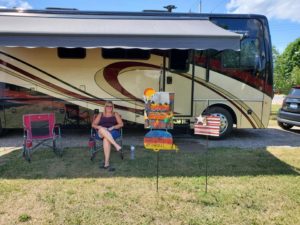 Our purchase of Antrim Meadows was another chance encounter that paid off for us. We had recently sold our auto repair business, so we were looking for our next venture. On our way to our new home in Mancelona, Doug noticed the campground was for sale. I'm not going to lie, I had questions. After all, it was 2020 and the world was shutting down, so starting a new business in uncertain times seemed, well, not smart. But as we talked about the possibilities and the potential the property held, we decided the location provided the perfect spot for us to share our love of camping and Northern Michigan.
Whether you are into mountain biking, boating, swimming, hiking, kayaking, golf, or motorcycle riding, there is no better place to travel than Northern Michigan, and Antrim Meadows serves as the perfect basecamp for your adventures. And when you return to camp, we want to hear all about them.
Open Dates: May 1 to October 31
Last Updated: 09/16/2022
---
Flags
No Political Flags allowed in Campgrounds
General Rules
WE RESERVE THE RIGHT to evict anyone violating the rules of good camping, destroying property, or creating a disturbance. WE HAVE A STORAGE AREA for boats and trailers that will not fit on your campsite
Laundry
LAUNDRY is available, but limited. Please be courteous to others.
Fire Safety
FIRES ARE ONLY ALLOWED IN THE FIRE PITS. The volunteer fire department gets a little testy when they have to leave their safe, backyard BBQ to stomp out your campfire.
Firearms Safety
NO LOADED FIREARMS or cutting of trees in the park.
Bath House
NO DISHWASHING in the bathroom (health law)
Dump Station
ALL WASTE WATER must be disposed of at the dump station.
Alcohol
ALL ALCOHOLIC beverages must be confined to your site (or sufficiently camouflaged!)
Pet Policy
ALL LEASHES MUST BE accompanied by a pet. This county has one mean dog catcher! PLEASE PICK UP DOGGIE DOO! NO pets are to be left outside unattended. NO barking dogs! PETS are NOT allowed in bathrooms.
Language Advisory
PLEASE KEEP PROFANITY to a minimum.
Trash Policy
UNFORTUNATELY, some unlucky person in your party will have to take the trash to the dumpster. If you are alone, it's you! Please place all of your garbage, loose papers, and trash in plastic bags before placing it in the dumpster.
RV Sites
EACH SITE is permitted one table, water, and electric outlet unless you are in a rustic site, and then all utilities are off.
Vehicle Policies
ONLY ONE vehicle per site, unless other arrangements are made at the office. NO motorcycles, ATVs, or snowmobiles are to be driven around the park or crossing over sites. Use the park roadway only, please.
COME ONE O'CLOCK
COME ONE O'CLOCK tomorrow you'd better be gone or we're gonna charge you for another day.
YOUR NEIGHBOR'S GUESTS
YOUR NEIGHBOR'S GUESTS should check-in at the office and be gone by 10 p.m. so you can get some shut-eye.
FROWNS ARE NOT ALLOWED!
If you have one, leave it at the dump station and pick it up when you leave.